Hazel Class
Welcome to Hazel's Class Page
Hazel Class is taught by Miss Hunter and is supported by Mrs Rossall.
We have children who are in Year 2, 3 and 5 within the class.
This half term, Hazel class are focussing their skills in Geography. We will be looking at securing our knowledge of continents and which continent we live in. We will explore and compare a European country to where we live. Linked to this we will be exploring the food from that country and designing and creating our own food in DT. In Science we will be continuing looking at our bodies but exploring nutrition and how this affects our body.
*******************************************
This slideshow requires JavaScript.
Last half term Hazel class learnt all about our skeletons and how they move. We continued to work our writing skills in looking at fantasy stories, instruction writing and poetry. We expanded our skills in calculations, fractions, shapes and time. 
*******************************************
Here are some examples of the work the children completed. I think you will agree that they look amazing! The children were really focused when completing these tasks. It was very exciting for some of Hazel class towards the end of the half term as they earned a trip to the park for the morning. These children have shown their class adults that they can be trusted, safe, respectful and say okay to adults and their learning. Well done boys! 
This slideshow requires JavaScript.
Last half term, Hazel class have continued to further develop their learning through 'Play and Learn'. Throughout our learning they have developed their knowledge of fossils and rocks, Where we live and looking at UK regions and explored collage through Art. 
*******************************************
Here is some fantastic examples of the learning Hazel have achieved this last half term. 
This slideshow requires JavaScript.
Last half term, Hazel class explored learning through a new system of 'Play and Learn'. The children explored fortnightly topics through focussed learning tasks and then play learning tasks. The topics for the half term were Explorers, Light and Seasons. 
Autumn 1 learning in Hazel class
This slideshow requires JavaScript.
This half term Hazel have been learning and exploring new topics. 
During Science, we have been learning all about forces and magnets. As you can see the children investigated different magnets and their strength. We tested to see which was the strongest and made predictions before we tested them. 
In Art we saw the children using a new technique of printing, this was relief printing. The children experimented with different patterns and colours. Some children took this further and practised over lapping their layers of printing. I think you will agree that the children have created some super work.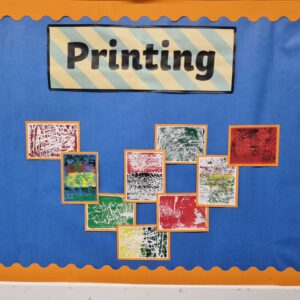 In PSHE, we learnt about looking after ourselves and what we need to do this. The children explored looking after their teeth, germs and the importance of washing our hands, the importance of sleep and how it can affect our bodies. The children were very surprised when we used the germ finder. We quickly learnt to make sure we wash our hands thoroughly. 
******